Swimming To Chicago Barnes, David Matt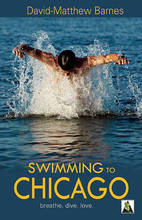 Stock information
: $19

.95

(AUD)

: 9781602825727
: Bold Strokes Books
: Bold Strokes Books
:
:
:
:
:
: 19.95
:
:
:
: books
:
:
:
:
:
:
:
:
:
: David-Matthew Barnes
:
:
:
:
:
: PAPERBACK
:
9781602825727
Description
Reeling from his mother's suicide, seventeen-year-old Alex Bainbridge retreats from the world around him, often finding solace on a secluded island behind his house. As an Armenian-American living in a small Southern town, Alex struggles to fit in. His close friendship with the outspoken Jillian Dambro is his only saving grace, until he meets and falls in love with Robby LaMont—an introverted new student at school. As the year unfolds and the lives of the adults around them unravel, the three teens form an unbreakable bond, vowing to do anything to stay together—even if it means leaving everything behind.
Reviews
Kirkus Reviews
Within a month, Alex gets kissed and then unceremoniously dumped by Tommy, a closeted footballer at their rural Georgia high school.
It's the first of many changes for Alex as he enters his senior year of high school: His mother commits suicide, he starts dating new-neighbor Robby and his father begins an affair with Martha, Robby's much-maligned mother. Jillian, Alex's best friend, feels Alex pulling away from her and launches into a self-destructive relationship with Robby's stepfather, which comes to an abrupt halt when Jillian finds herself pregnant. Desperate to escape the confines of their rural community, the three teens plan an escape to Chicago, only to have their plans thwarted by violence. Rife with implausible scenarios, wooden characters and clichéd dialogue, Barnes' sophomore novel for teens (Mesmerized, 2010) is a dreary slog through a mashup of many a gay-teen novel from yesteryear. Alex and Robby appear to be in an endless cycle of puppy love, in which moments that should lead to character development turn into extended swoon-fests. There's no real emotion behind any of the dialogue, leaving the author's hand very visible in all the plot actions, which are so scripted they carry little impact. Despite a few mentions of texting, Barnes fails to develop a setting, adding to the book's overall dated feel.
This noble attempt to explore rural LGBT issues is buried under an avalanche of flaws. (Fiction. 13 & up)