Word Slam?! May 2015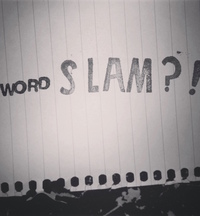 Stock information
: $0

.00

(AUD)

: Hares
: Harehole
: HH20150520
: May 2015
:
:
:
:
:
: 0.0
: May 2015
: events
:
: Hares & Hyenas
:
:
:
:
:
:
: 20 May 2015
HH20150520
Local Description
The Hare Hole WordSLAM?! is a little bit different. Not just open to poets, we encourage all writers to get up and show us what they've got.
It's a competition.
Seven writers perform in three rounds, competing for top place and a chance to enter the GrandFINAL?!. In the first round writers perform for up to 3 minutes, in round two they have up to 4 minutes. After each round the audience votes to choose the top 3 performers who go on to a final battle of up to six minutes each.
First prize is a cash prize plus entry into the GrandFINAL?! to be held in November 2015.
It's queer but not just queer.
Performances are often intimate and bold. Writers lay open their hearts with stories of love, life, the joy of bicycling, being trans, bringing up kids, sex, internalised homophobia, books they read as a kid, growing up in Japan, abortions, racism, the wonders of dating librarians, even cannibalism.
You won't believe it 'til you see it.
The May Slammers were
James Robertson
Lana Woolf
Steve Smart
Cherry Murphy
Amanda Marx
James Robert Conlon
Forth