$14.99
AUD
Category: Same Sex Parents
One of the only original board books about gay parents A perfect purchase for new parents, baby showers, and more Rhythmic text and illustrations with universal appeal show a toddler spending the day with its mommies. From hide-and-seek to dress-up, then bath time and a kiss goodnight, there's no limit to what a loving family can do together. Shares the loving bond between same-sex parents and their children. ...Show more
$29.99
AUD
Category: Crafts, Puzzles, Cooking, & Colouring Books
Have you got what it takes to assemble all 299 cats into a perfect puzzle? In this cunning cluster puzzle, there are no regular jigsaw shapes: each piece takes the outline of the cat itself. And there are 299 of them! Plus a dog. See if you can find it!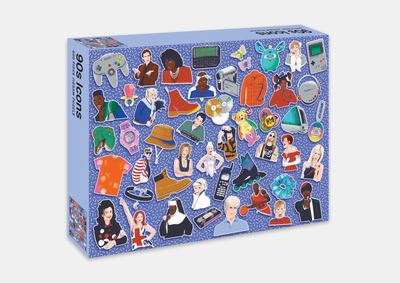 $29.99
AUD
Category: Crafts, Puzzles, Cooking, & Colouring Books
Put down your phone screen and crack open this intricately illustrated jigsaw puzzle, which celebrates pop culture of the 90's - the raddest decade ever. In the 90's Icons jigsaw puzzle, the 500 pieces tesselate to reveal an intricately designed collage of pop-cultural classics. Any millennial will say that the 90's were the best decade (even though many were still in diapers at the time). Regardless, and putting the whole 90's-kid debate aside for a moment, they're very much right. Much of 90's culture dictates ours today. Without Friends or Seinfeld, would our world still turn? If Nirvana hadn't made it big, would grunge have ever reached the masses? Can anyone even pass a driving test without training in Mario Kart We doubt it, and this jigsaw puzzle just about proves it.   As you assemble this puzzle, get ready for a Nokia, Nintendo 64, Tamagotchi, Discman, Rollerblades, Bucket hats, CD-ROM, Beanie Babies, Chokers and more Then there's personalities like Oprah, The Fresh Prince, Princess Diana, Madonna, The Spice Girls, and Britney Spears, as well as the classic film and TV of the 90s, Dawson's Creek, Jurassic Park, Pretty Woman, Home Alone, Mrs Doubtfire, Pulp Fiction, and more Blast your favorite Madonna album while you're doing the jigsaw for the full immersive experience. ...Show more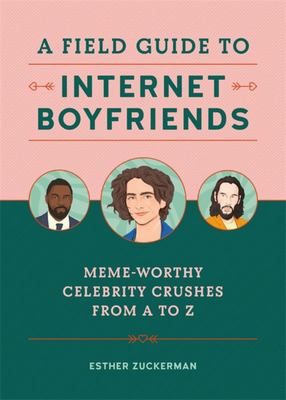 $22.99
AUD
Category: Humour
From Keanu Reeves and Idris Elba to Timothe Chalamet, A Field Guide to Internet Boyfriends is the ultimate celebration of the suave, sexy, sensitive, and silly celebrities who have captured our hearts and memes Handsome and heartfelt, with winning smiles and pinnable Tweets -- this is what Internet Bo yfriends are made of. But who are these meme-able men, and what makes them catch fire online? Discover the answers to these questions and more in A Field Guide to Internet Boyfriends, an interactive exploration of our collective crushes.   Entertainment journalist Esther Zuckerman breaks down the world of Internet Boyfriends -- and even a few Internet Girlfriends -- from documentary-style "spotting guides" to discussions on the key categories of boyfriend, like Sensitive Souls, Beautiful Boys and Daddys. A playful, teen magazine-style quiz -- to help readers find their ideal crush -- and in-depth profiles of some of the most beloved Internet Boyfriends and Girlfriends, from Ryan Gosling (the original) to Harry Styles (the Gen Z icon) to Janelle Monae (the space queen), round out this fully-illustrated romp through the celebs behind the memes. ...Show more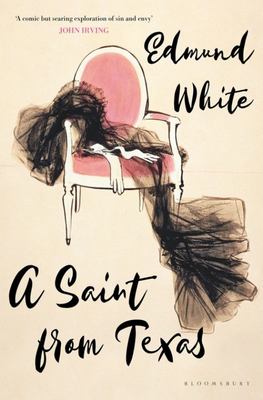 $29.99
AUD
Category: Gay & Bi Male Fiction | Reading Level: near fine
From Edmund White, a bold and sweeping new novel that traces the extraordinary fates of twin sisters, one destined for Parisian nobility and the other for Catholic sainthood. Yvette and Yvonne Crawford are twin sisters, born on a humble patch of East Texas prairie but bound for far more dramatic and tra gic fates. Just as an untold fortune of oil lies beneath their daddy's land, both girls harbor their own secrets and dreams-ones that will carry them far from Texas and from each other. As the decades unfold, Yvonne will ascend the highest ranks of Parisian society as Yvette gives herself to a lifetime of worship and service in the streets of Jericó, Colombia. And yet, even as they remake themselves in their radically different lives, the twins find that the bonds of family and the past are unbreakable. Spanning the 1950s to the recent past, Edmund White's marvelous novel serves up an immensely pleasurable epic of two Texas women as their lives traverse varied worlds: the swaggering opulence of the Dallas nouveau riche, the airless pretension of the Paris gratin, and the strict piety of a Colombian convent. For nearly half a century, Edmund White's work has revitalized American literature, blithely breaking down boundaries of class and sexuality, and A Saint From Texas is one of his most joyous, gorgeously written, and piercing works to date. ...Show more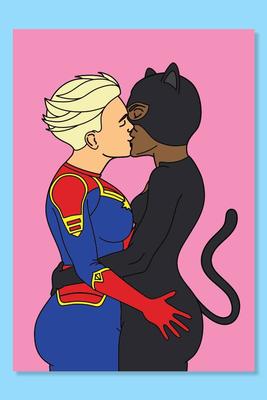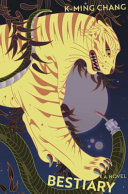 $29.99
AUD
Category: Lesbian & Bi Fiction
Three generations of Taiwanese American women are haunted by the myths of their homeland in this spellbinding, visceral debut about one family's queer desires, violent impulses and buried secrets. One evening, Mother tells Daughter a story about a tiger spirit who lived in a woman's body. Her name was Hu Gu Po and she paid the price for her body in hunger. It's one of many stories Daughter absorbs from the women in her family, about gourd daughters, buried gold and rabbit moons. Soon afterwards, Daughter wakes with a tiger tail. And more mysterious events follow: holes in the backyard spit up letters penned by her estranged grandmother; a visiting aunt arrives with red hands and snakes in her belly; her brother tests the possibility of flight. All the while, Daughter is falling for Ben, a neighbourhood girl who is more bird than tiger and has mysterious stories of her own. As the two young lovers translate the grandmother's letters and the myths that surround them, Daughter must reckon with how deep these stories are buried within her, and what power is rising, violently, through her. She will have to bring her family's secrets to light in order to change their destiny. With a poetic voice of crackling electricity, K-Ming Chang is an explosive young writer who combines the wit and fabulism of Helen Oyeyemi with the magical realist aesthetic of Maxine Hong Kingston. Tracing one family's history from Taiwan to America, Bestiary is a lyrical and electrifying novel of migration, queer lineages and girlhood. ...Show more
$24.99
AUD
Category: Gay & Bi Male Fiction | Series: True Colors Ser.
LGBTQIA+ ROMANTIC COMEDYWhen tangentially--and reluctantly--famous Luc O'Donnell is forced back into the spotlight in the worst possible way, he has to think fast if he wants to save his floundering reputation. Enter Oliver Blackwood. Stunningly handsome and effortlessly put together, Oliver is successf ul, an ethical vegetarian, and has never appeared in a scandal mag even once. In other words, he's perfect boyfriend material and exactly what Luc needs to appear respectable again. But when their fake relationship starts to feel like real romance, Luc and Oliver might have to consider whether they're willing to fight for the truth of their new relationship...scandal, and consequences, be damned. ...Show more