$29.99
AUD
Category: General
'Layla Saad's ME AND WHITE SUPREMACY is an indispensable resource for white people who want to challenge white supremacy but don't know where to begin' Robin DiAngelo, author of New York Times bestseller WHITE FRAGILITY 'Confrontational and much-needed' Stylist White supremacy is a violent system of op pression that harms Black, Indigenous and People of Colour and if you are a person who holds white privilege, then you are complicit in upholding that harm, whether you realise it or not. And if you are person who holds white privilege, the question you should be asking isn't whether or not this is true, but rather, what are you going to do about it? Between June and July 2018, Layla Saad ran a 28-day Instagram challenge under the hashtag #MeAndWhiteSupremacy, for people with white privilege to unflinchingly examine the ways that they are complicit in upholding the oppressive system of white supremacy. The challenge quickly went viral, with thousands of people from all over the world (including USA, Canada, UK, Italy, Germany, The Netherlands, Russia, UK, Australia, New Zealand, Thailand and Qatar, among others) diving deep for 28 consecutive days to examine and take responsibility for the ways in which they uphold white supremacy. The challenge catalyzed a worldwide awakening for thousands of white-privileged people to begin to take ownership of their personal anti-racism work. The updated and expanded Me and White Supremacy takes the work deeper by adding more historical and cultural contexts, sharing moving stories and anecdotes, and including expanded definitions, examples, and and further resources. Awareness leads to action, and action leads to change. The numbers show that readers are ready to do this work - let's give it to them. This workbook was born out of that challenge and the results have been life-changing. ...Show more
$24.99
AUD
Category: General
Rediscovering Captain James Cook- Paul Daley combs through the archives, visits Cook's papers in the National Library, speaks with Indigenous Australian thinkers and comes up with a reappraisal of the great explorer's impact. Selling the farm- the author of Rusted Off Why Country Australia Is Fed Up, Gabrielle Chan on the permanently changed face of Australian agriculture. No more family farms, no more rural romance, just vast corporatised agri-business and the whiff of corruption. Our broken Journalism- He watched the 2019 election campaign from the inside, and now blogger and economics commentator Greg Jericho despairs of traditional journalism, a craft that has hastened the decline of our politics and public life. Walking rivers, making sense- writer Tony Birch (Ghost River, The White Girl) walks riverside in Kyoto and Melbourne looking for meaning and the lost trails of waterways. Plus- Guy Rundle on the slow death of Australian television, Liz Duck-Chong in search of Ronald McDonald and Patrick McCaughey on the cultural wonders of Berlin, with a brace of fresh fiction and new poetry too. And in March Meanjin- The Fragile Whites- Indigenous author Alison Whittaker on the reluctance of a white Australia shadowed by colonialism and a buried history, to own its racism. ...Show more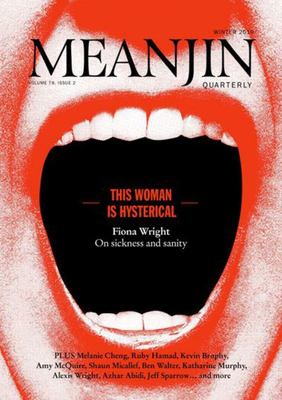 $24.99
AUD
Category: General
Clementine Ford wonders whether the #metoo movement represents a turning point for women, Anna Spargo-Ryan thinks not: 'In the wake of #MeToo, when women said 'this time it will be different', it wasn't.' Joumanah El Matrah picks over the idea of religious freedom, Liz Conor recalls the section 18C case against cartoonist Bill Leak, and an earlier race controversy over the work of Bill Jolliffe. Clare Payne argues that women are entering a new age of economic empowerment. Timmah Ball brings an Indigenous perspective to the home ownership debate, Hugh Mackay offers calm reflections on the madness of Year 12, Carmel Bird ponders her many connections to Nobel prize contender Gerald Murnane and Harry Saddler listens to the world with the ears of a dog. There's new fiction from Randa Abdel Fattah, Beejay Silcox, Laura Elvery and Vogel Prize winner Emily O'Grady. The editions poet's include: Fiona Wright, John Kinsella, Kevin Brophy, Kate Middleton and Hazel Smith. ...Show more
$24.99
AUD
Category: General
Intimacy Author and essayist Lucia Osborne-Crowley examines the cost of intimacy for women in a world where men demand exclusive access to the closeness of their female partners, often without returning the emotional labour involved. Other essays include- Academic and author Toby Miller looks at the st ate of the world, from climate change and species extinctions, to the culture of social media and misinformation, the growing gulfs of economic and social inequality, and concludes that the problem is universal and can be summed up in one word- capitalism. Critic and academic Emmett Stinson writes on the sad gap between the content provided by the news sources that inform us and, well, reality. Noongar author Claire G. Coleman writes on the long shadow of the Stolen Generations- 'Dad discovered he was Noongar when he was 63, when I was 30, when his Uncle Bob died...' Author Eleanor Gordon-Smith considers the irresistible rise of populism ... and how giving people what (they think) they want is reshaping the world. Poet Toby Fitch details Australian animal and bird extinction from 1788 to the present. And author Ellena Savage on the strange and deeply personal world of acknowledgement pages. Plus- New memoir, new fiction, and the best in new Australian poetry. ...Show more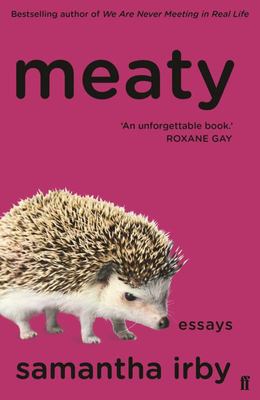 $22.99
AUD
Category: General
'This is an unforgettable book, the kind where the author unapologetically bares her heart and asks you to hold it tenderly, with care.' Roxane Gay Meditations on the terror of love; tips for getting your disgusting meat carcass ready for some new, hot sex; a frank self-evaluation upon the occasion of one's 30th birthday; and, finally, the answer to the question on everyone's minds: Would dying alone really be so terrible? Blogger and comedian Samantha Irby covers it all with wit and honesty - and serves it with a side of Instagram frittata. ...Show more
$22.99
AUD
Category: General
A vital new non-fiction collection from one of the most celebrated and revered writers of our time. 'We die. That may be the meaning of life. But we do language. That may be the measure of our lives.' - The Nobel Lecture in Literature, 1993 The power of language, discussed beautifully in Toni Morrison's Nobel lecture, is felt throughout the essays, speeches and meditations contained in this collection. With controlled anger, elegance, and literary excellence, Morrison's words interrogate the world around us, considering race, gender, and globalisation. Heart-stoppingly introduced by a prayer for the dead of 9/11, a meditation on Martin Luther King Jr. and a eulogy for James Baldwin, this collection addresses audiences ranging from graduating students to visitors to both the Louvre and America's Black Holocaust Museum. A Mouth Full of Blood is a powerful, erudite and essential gathering of ideas that speaks to us all. "These pieces are a wake-up call... and a brilliant insight into the mind and work of one of the world's finest writers" (Anita Sethi) "Mouth Full of Blood is a bracing reminder of what words do, how carefully they should and can be used... magnificent and rigorously argued" (RO Kwon,  Guardian) ...Show more
$19.99
AUD
Category: General
'Our government jailed his body, but his soul remained that of a free man.' Richard Flanagan Where have I come from? From the land of rivers, the land of waterfalls, the land of ancient chants, the land of mountains... Since 2013, Kurdish journalist Behrouz Boochani has been held in the Manus Island off shore processing centre. People would run to the mountains to escape the warplanes and found asylum within their chestnut forests... This book is the result. Laboriously tapped out on a mobile phone and translated from the Farsi. It is a voice of witness, an act of survival. A lyric first-hand account. A cry of resistance. A vivid portrait through six years of incarceration and exile. Do Kurds have any friends other than the mountains? ...Show more
$16.99
AUD
Category: General | Series: On Ser.
In On Passion celebrated Australian poet Dorothy Porter delves headfirst into the passions, both literary and earthly. We discover the young Dorothy Porter's 'drug of choice' was none other than romantic love and that 'some of the most deeply passionate experiences of [her] life happened between the cov ers of a book'.Written just before she passed away in 2008, On Passion is a wonderful, ultimately joyous, insight into the creative life of one of our best loved poets. ...Show more
$32.99
AUD
Category: General | Reading Level: near fine
The bestselling author of Vagina illuminates a dramatic history - how a single English law in 1857 led to a maelstrom, with reverberations lasting down to our day. That law was the Obscene Publications Act and it was a crucial turning point. Why? Because dissent and morality; 'deviancy' and 'normalcy'; unprintable and printable were suddenly lawful concepts in the modern sense. This new law effectively invented modern obscenity. Before 1857 it wasn't 'homosexuality' - a term that didn't yet exist - that was a crime, but simply the act of sodomy. But in a single stroke, not only was love between men illegal, but anything referring to this love also became obscene, unprintable, unspeakable. And writers, editors and printers became the gatekeepers with a responsibility to uphold the morals of the society - followed by serious criminal penalties if they didn't. And as the act evolved, joined by other laws against sexual representation and speech, making their way to courts, the authors' or artists' intentions were deemed immaterial. What mattered was if the work in question had a 'tendency . . . to deprave and corrupt those whose minds are open to such immoral influences, and into whose hands a publication of this sort may fall'. Wolf paints the dramatic ways this set of laws and consolidation of what we would call homophobia and censorship, played out among a bohemian group of sexual dissidents, including Walt Whitman in America and the homosexual English critic John Addington Symonds - in love with Whitman's homoerotic voice in Leaves of Grass - decades before the infamous 1895 trial of Oscar Wilde. She retrieves forgotten history of men and even young teenage boys, executed at the Old Bailey for 'sodomy' or even 'the attempt'. Algernon Charles Swinburne, Dante and Christina Rossetti, Walter Pater and painter Simeon Solomon, were among the writers and artists, and countless booksellers and printers, whose lives were shadowed with jeopardy from this emerging network of laws against speech and love. She depicts both a fascinating story and, crucially, an important way of understanding how we arrived at our ideas of 'normalcy' and 'deviancy' - and the idea of the state's purported need and right to police speech - ideas which are with us to this day. Most powerfully, Wolf recounts how a dying Symonds helped write the book on 'sexual inversion' that created our modern understanding of homosexuality. She argues that his secret memoir, mined and explained here fully for the first time, together with a secretly published essay, evolved into what would become the first mainstream gay rights manifesto in the west - proving that the literature of love will ultimately triumph over censorship. ...Show more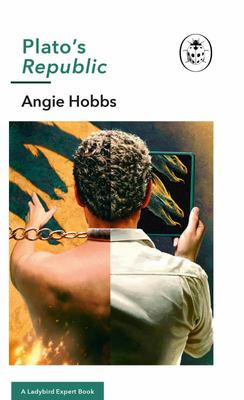 $19.99
AUD
Category: General | Series: Ladybird Expert Ser.
Part of the new Ladybird Expert series, Plato's Republic is an accessible, authoritative, and timely introduction to the influential dialogue that helped shape all Western literature and philosophy. Written by distinguished philosopher and professor Angie Hobbs, Plato's Republic explores the age old dil emma: Why should I be just? What is a just society, and how can it be created? With strikingly relevant questions such as: How can women's potential be actualized? How are democracies subverted by demagogues and tyrants? How dangerous are 'alternative facts' and what can we do about them? This text is still essential reading. Written by the leading lights and most outstanding communicators in their fields, the Ladybird Expert books provide clear, accessible and authoritative introductions to subjects drawn from science, history and culture. For an adult readership, the Ladybird Expert series is produced in the same iconic small hardback format pioneered by the original Ladybirds. Each beautifully illustrated book features the first new illustrations produced in the original Ladybird style for nearly forty years. ...Show more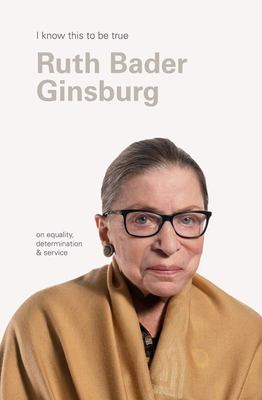 $17.99
AUD
Category: General
Associate Justice of the US Supreme Court and one of America's most admired jurists and social justice advocates, Ruth Bader Ginsburg answers fundamental questions about leadership, and what really matters to her.