$29.95
AUD
Category: Flags
The International Bear Brotherhood Flag was designed in 1995 and presented to the Bears of San Francisco at the 1996 Bear Rendezvous in San Francisco, California. The colors stand for all nationalities and hair colors of bears throughout the world.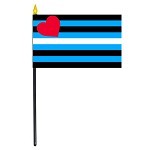 $10.00
AUD
Category: Flags
Leather Flag on Stick 4" x 6" flags are mounted on a 10.5 inch black plastic stick with a metallic golden spear top arrow. We have made every effort to make the colors on screen as close as possible to the colors of the products you purchase. However, we cannot guarantee an exact match in colors, and the images and information on this website should not be relied on as such. The representation of colors are limited by technology and may vary due to screen and printer settings. ...Show more
$14.95
AUD
Category: Flags
Our 3ft x 5ft Polyester Trans Pride Flag has header tape and 2 metal grommets Flag is dye-sublimated with beautiful bold colors. Printed on one side all the way through the fabric. Double-stitched around all edges with 4 rows of stitching on fly edge.